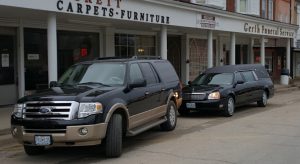 Memphis — The Gerth Funeral Service building in Memphis is the longest continuously operating funeral home in Scotland County. Our colonial style front is well lit and over over 100 feet of covered walk way completely covers and protects our families from the elements. Our large covered walkway is just one of the unique ways that Gerth Funeral Service goes the extra mile for our families. Since 1904, we have gained a reputation for doing more for less. Our facilities are the first of many examples that make Gerth Funeral Service the best choice for funeral care in Northeast Missouri.
Renovated in 1994, the fully furnished parlor provides comfortable seating for over 70 people. Featuring unique American artwork and traditional furniture, the room can be used for a visitation or as an extension of the chapel. The parlor allows for a spacious meeting area for family and friends to reflect and take solace in a comfortable and relaxed surrounding. When coupled with the chapel, the parlor can easily hold a gathering of over 200 people.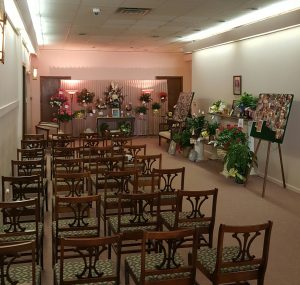 The parlor features a stereo system with CD and tape capabilities, as well as a tie in to the building's overall sound system. That allows for an overflow crowd during a funeral service in the chapel or separation for a person who may need to step out of the chapel during the service to still hear what is going on from the lectern or the live musicians inside. Designed with several soft high-back chairs, two large sofas, and smaller conversation pieces, the parlor provides a unique and comfortable setting for friends and family to gather.   The parlor also offers access to the free WIFI.
The non-denominational chapel can comfortably seat over 140 people. It features a classic stained glass entrance, stereo sound system, an organ and piano, and microphones for a speaker and a vocalist.  We have free memory boards to display pictures and offer a wide variety of options for displaying mementos of an individual's life and honoring the loved one.   The room is also able to be arranged several ways in order to accommodate a family's wishes. There is also available private family seating to the side of the chapel.  The chapel is easily converted to accommodate Masonic and veteran's services.   It served as a temporary home to St. John Catholic Church while their church building was being renovated following a fire in 2000.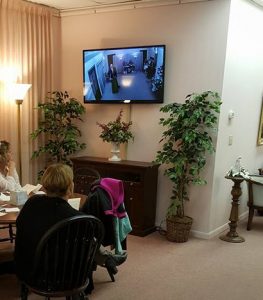 There are TV monitors in both the chapel and parlor for playing memorial picture videos or home movies.  The service can also be recorded for later play back through a camera system in the chapel.  Also, when there are crowds that exceed the 140 seating capacity of the chapel, the 61 inch monitor in the parlor is linked to the chapel via closed circuit cameras to provide additional seating.
Gerth Funeral Service offers free use of our kitchen and dining facilities to our families. The kitchen offers a stove and range top, microwave oven, coffee and iced tea makers, a buffet style counter top, and a refrigerator. The dining area includes a removable cafeteria style seating option as well as restaurant-style seating. We are able to seat and serve gatherings of between 30-40 people for a luncheon or dinner before or after a service. The use of the kitchen and dining area is free to our families. In addition, if the family decided to have an outdoor luncheon at another site, Gerth Funeral Service offers the use of 50 wooden outdoor chairs free to our families.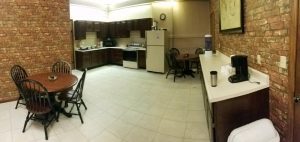 The funeral home now has become more than just a site for the service, it is a place of remembrance with the focus on the survivors. The staff at Gerth's is trained to help with the grieving process through a variety of techniques and tools. Gerth's has just added a library with helpful publications and periodicals dealing with grief. There is even a small candle to light in this room designed to provide a little solitude and a chance to reflect and remember. This room can also provide a private place of solace for a person during a visitation or service.
For children, we have a specially designed room filled with books, videos, a Wii console and and lots of toys.   During a visitation or service, young children easily become restless. Featuring coloring books, games, access to Netflix and a DVD combo and a selection of Disney movies, this room is designed to allow guests to grieve while not having to be constantly concerned with the children. The room also has speakers from the chapel for a parent and child during the service. Another free option available only at Gerth Funeral Service.
Gerth Funeral Service also offers a complimentary vehicle for the pallbearers.